gramofončić
Lamar i Swift najbolji: Kome je sve u ruke otišao Grammy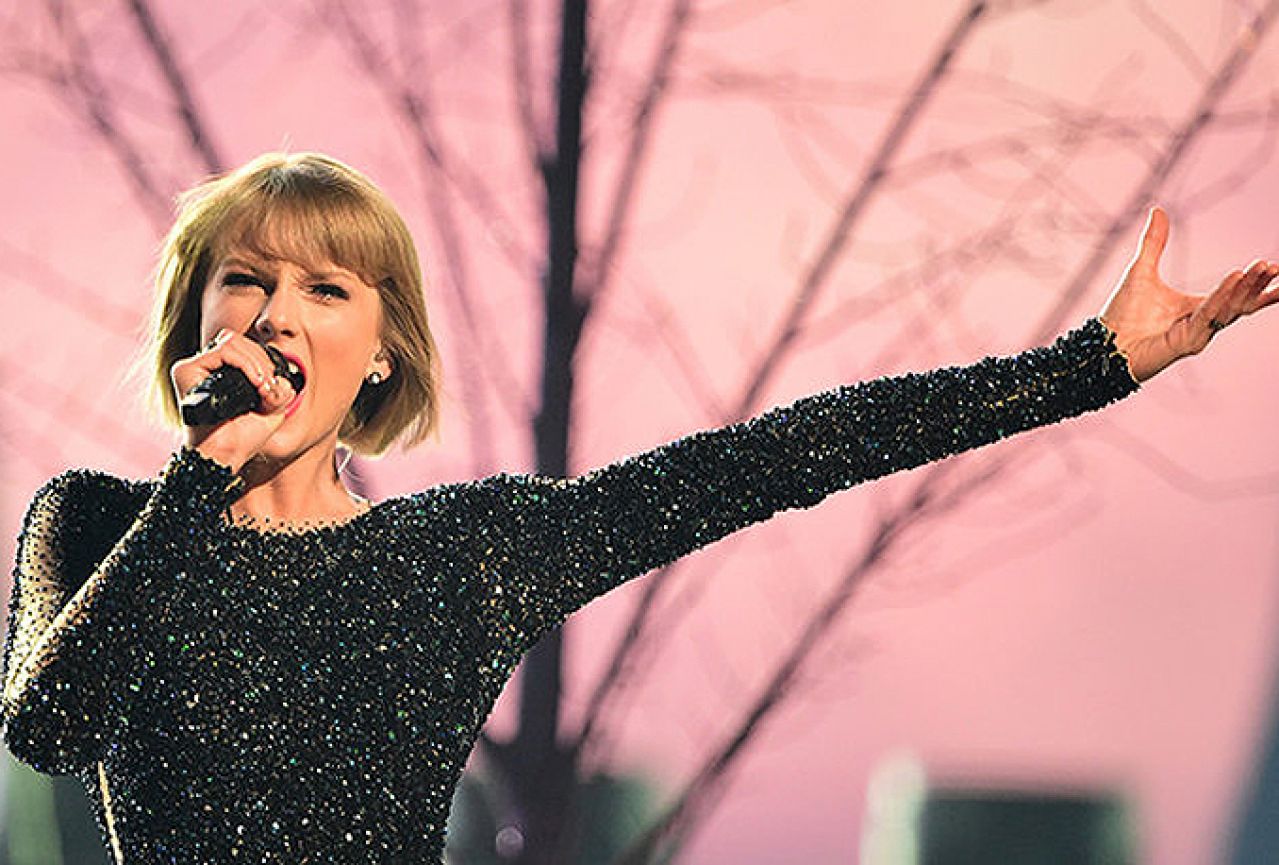 Tekst članka se nastavlja ispod banera
Američki reper Kendrick Lamar, pop zvijezda Taylor Swift, britanski kantautor Ed Sheeran, američki rock band Alabama Shakes i hit "Uptown Funk" Marka Ronsona i Brune Marsa obilježili su 58. dodjelu glazbenih nagrada Grammy, koja je održana u utorak u Staples Centru u Los Angelesu, piše Hina.
Kendrick Lamar imao je najviše nominacija, čak 11, od čega je osvojio pet Grammya, među kojima i za najbolju rap pjesmu i rap album, no njegov vrlo hvaljeni "To Pimp A Butterfly" nije uspio postati albumom godine.
Bad Blood just won a Grammy for Best Music Video and we are not ok.@selenagomez pic.twitter.com/EquWAq0UPg

— Taylor Swift (@taylorswift13) February 15, 2016
Taylor Swift za svoj "1989" dobila je Grammye za album godine i najbolji vokalni pop album, a s Lamarom je podijelila nagradu za najbolji glazbeni video za "Bad Blood". Američkoj superzvijezdi Grammyi i nisu neka novost jer ih je do ove godine već osvojila deset.
Beyoncé tonight at the 58th #GRAMMY Awards. pic.twitter.com/YV0hSbS2yR

— Beyoncé Reigns (@BeyonceReigns) February 16, 2016
R&B dvojac, producent Mark Ronson i pjevač Bruno Mars dobili su nagradu za ploču godine za svoj zarazni plesni hit "Uptown Funk", koji im je donio Grammy i za najbolju pop izvedbu u duetu/grupi. Mars je nagrade posvetio fanovima, prije svega onima koji su plešući pomogli da "Uptown Funk" postane jedan od najvećih hitova godine.
Blues-soul band Alabama Shakes osvojio je tri Grammya - za najbolju rock izvedbu i rock pjesmu "Don't Wanna Fight", te za najbolji alternativni album "Sound & Color". Njihov uspjeh stigao je nakon što su proteklih godina već bili triput nominirani, između ostalog i za najboljeg novog izvođača, no do ove godine nisu osvojili ništa.
Adele's #Grammy performance experiences technical issues https://t.co/QiGfDNHbQY pic.twitter.com/NfVIMbIRuP

— billboard (@billboard) February 16, 2016
Ed Sheeran osvojio je svoj prvi Grammy u komercijalno vrlo uspješnoj karijeri za najbolju solo pop izvedbu pjesme "Thinking Out Loud", koja je potom proglašena i pjesmom godine. Sheeranu je Grammy uručio legendarni Stevie Wonder, što je 24-godišnjeg Engleza potaknulo na priznanje kako bi bio šokiran da su mu kao klincu rekli da će jednog dana dobiti nagradu iz Wonderovih ruku.
Svoj prvi Grammy dobio je i Justin Bieber za najbolju dance ploču zajedno sa DJ-ima Skrillexom i Diplom.
Nagradu za najbolju novu izvođačicu dobila je Meghan Trainor, američka pjevačica čiji je debi album "Title" dospio na prvo mjesto Billboardove liste najprodavanijih albuma, s kojeg je skinuto nekoliko hit singlova, među kojima i najpoznatiji "All Abouth That Bass".
Devetorostruki dobitnik Grammya, američki kantautor i glumac John Legend predvodio je skupinu zvijezda koja je odala počast Lionelu Richieu izvodeći neke od njegovih najvećih hitova poput "Easy" i "Hello". Uz Legenda pjevali su Demi Lovato, Luke Bryan, Tyrese Gibson i Meghan Trainor, da bi im se na kraju pridružio i sam Richie u izvedbi nezaboravne "All Night Long".
+@selenagomez beams w/pride as @taylorswift13 accepts GRAMMY 4 Album of the Year https://t.co/IEhRtmoDfI #GRAMMYLive pic.twitter.com/IxNifQs9hz

— The GRAMMYs (@TheGRAMMYs) February 16, 2016
Trosatni show u Staples Centru bio je prilika i za iskazivanje poštovanja prema veličini pokojnog Davida Bowiea, što je učinila Lady Gaga u psihodelijom obojanom nastupu u kojem je, obučena u neke od njegovih kostima, izvela medley od 10 Bowievih hitova - "Space Oddity", "Changes", "Ziggy Stardust", "Suffragette City", "Rebel Rebel", "Fashion", "Fame", "Under Pressure", "Let's Dance" i "Heroes".
Počast je odana i još nekima od nedavno preminulih glazbenih zvijezda - članovi Eaglesa su zajedno s kantautorom Jacksonom Brownom izvedbom velikog hita s početka karijere "Take It Easy" odali priznanje jednom od osnivača Eaglesa Glennu Freyu.
Stevie Wonder je s a capella grupom Pentatonix podsjetio na Mauricea Whitea, osnivača funk velikana Earth, Wind & Fire, a Bonnie Raitt se zajedno sa Chrisom Stapletonom i Garyem Clarkom još jednom poklonila legendarnom blueseru B. B. Kingu.
Trebala je nastupiti i Rihanna, no u zadnji čas je morala otkazati nastup zbog bronhitisa, navodi Hina.
Popis važnijih dobitnika Grammya:
Ploča godine: Mark Ronson feat. Bruno Mars - Uptown Funk
Album godine: Taylor Swift - 1989
Pjesma godine: Ed Sheeran - Thinking Out Loud
Najbolja rock izvedba: Alabama Shakes - Don't Wanna Fight
Najbolji novi izvođač: Meghan Trainor
Najbolji glazbeni video: Taylor Swift & Kendrick Lamar - Bad Blood
Najbolji glazbeni film: Asif Kapadia - Amy
Najbolja solo pop izvedba: Ed Sheeran - Thinking Out Loud
Najbolja pop izvedba u duetu/grupi: Mark Ronson feat. Bruno Mars - Uptown Funk
Najbolji vokalni pop album: Taylor Swift - 1989
Najbolji urbani album: The Weeknd - Beauty Behind The Madness
Najbolji dance/elektronski album: Skrillex And Diplo - Skrillex And Diplo Present Jack Ü
Najbolja dance ploča: Skrillex And Diplo With Justin Bieber - Where Are Ü Now
Najbolji country album: Chris Stapleton - Traveller
Najbolja country pjesma - Little Big Town - Girl Crush
Najbolji album alternativne glazbe: Alabama Shakes - Sound & Color
Najbolji rock album: Muse - Drones
Najbolja rock pjesma: Alabama Shakes - Don't Wanna Fight
Najbolja metal izvedba: Ghost - Cirice
Najbolji R&B album: D'Angelo And The Vanguard - Black Messiah
Najbolja R&B pjesma: D'Angelo And The Vanguard - Really Love
Najbolji rap album: Kendrick Lamar - To Pimp A Butterfly
Najbolja rap pjesma: Kendrick Lamar - Alright
Najbolji jazz vokalni album: Cécile McLorin Salvant - For One To Love
Najbolji jazz instrumentalni album: John Scofield - Past Present
Najbolji latino pop album: Ricky Martin - A Quien Quiera Escuchar
Najbolji blues album: Buddy Guy - Born To Play Guitar
Najbolji americana album: Jason Isbell - Something More Than Free
Najbolji bluegrass album: The Steeldrivers - The Muscle Shoals Recordings
Najbolji folk album: Bela Fleck & Abigail Washburn - Bela Fleck And Abigail Washburn
Najbolji world music album: Angelique Kidjo - Sings
Najbolji reggae album - Morgan Heritage - Strictly Roots